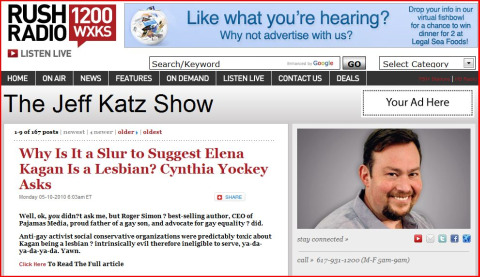 I hear tell that Monday morning, May 10, Boston conservative radio talk show host Jeff Katz at Rush Radio 1200 talked about my piece published on May 9 at Pajamas Media, "Why is it a slur to suggest Elena Kagan is a lesbian?" for his entire show. This evening his intrepid producer, Jason Pothier, tracked me down and asked me to be a guest tomorrow, Tuesday, May 11, at 7 am, Eastern Daylight Time. I'm booked for 12-ish minutes.
The Jeff Katz show runs from 5 am to 9 am, Monday through Friday, The call-in number is 617-931-1200. If you click on the link above to go to Jeff's Web page at Rush Radio 1200, the red button with the "Play" arrow lets you listen to the show.
Jeff had the perfect career preparation for becoming a conservative radio talk show host — he was a police officer for Philadelphia's housing authority. A more detailed bio is here.
Not all of Jeff's show is made available as podcasts, but I think you'll enjoy the podcast of his May 7 interview with ex-ACORN employee Anita Moncrief.
I checked YouTube and found a couple of clips I like. Regular gentle readers will know that I first began to part company with liberalism and the Democratic party when I found out about presidential candidate Barack Obama's 20-year association with Rev. Jeremiah Wright. I had pretty much the same reaction that Jeff has here:
Jeff also spoke in Boston on April 14, 2010, at a Tea Party demonstration — he makes the point that the structure the Founders created is precious, but can be broken, so we must guard it so we can pass it to the next generation:
So, Jeff, I'm looking forward to talking with you and I hope our conversation will entertain, educate and inspire your listeners. Here are some posts to glance over to get to know me a bit better:
"My Blissful Gay Marriage" post at Pajamas Media, with photos of me and my late life partner of over 20 years, Margaret Ardussi here.
On Islam: "Remembering my friend, Alan Scherr, murdered in the Mumbai massacre"
On Islam: "Apocalypse in 3, 2, 1 … I agree with Pat Robertson" (that we need to pass a law declaring Islam is a political system, not a religion)
"No equality for me despite an ancestor that served with Washington at Valley Forge" (OK, the headline says it all.)
"Bookworm — Chai is wrong, homosexual equality and religious liberty can co-exist"
"My definition of 'womanliness' is fairly broad"
"First Lady Michelle Obama unites the beauty of Eleanor Roosevelt with the style of Mamie Eisenhower and the warmth and charm of Mary Todd Lincoln"
Update, 5/11/2010, Tues.: Jeff made the interview a pleasure, and I enjoyed talking with him. The podcast of our conversation is posted at Rush Radio 1200, but it doesn't have a permalink so if you go to the podcast page you may have to search by my name or the date of the interview (5/11/2010).